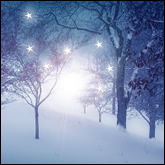 With the arrival of the solstice, its official...the sun is on its way!!! I'm so looking forward to watching the return of the light- minute by minute. That's really what this season is about for me- remembering that even in the deepest, darkest winter, there is still light and even though the world seems dead, its alive and already preparing for Spring.
Now we're tackling the last work day before the break and looking forward to a
Griswaldian
Old Fashioned Family Xmas with the husband's parents and then a visit with my side of the family in a cabin in the Rockies complete with snowshoeing, board games and awkward moments among some siblings who haven't spoken in months.
Yay
!
Peace to you and yours and have a joyful holiday- whichever you choose to celebrate!!